23/07/21
The Prime Minister Mr. Kyriakos Mitsotakis at the Athens Olympic Museum on the occasion of the opening ceremony of the Olympic Games in Tokyo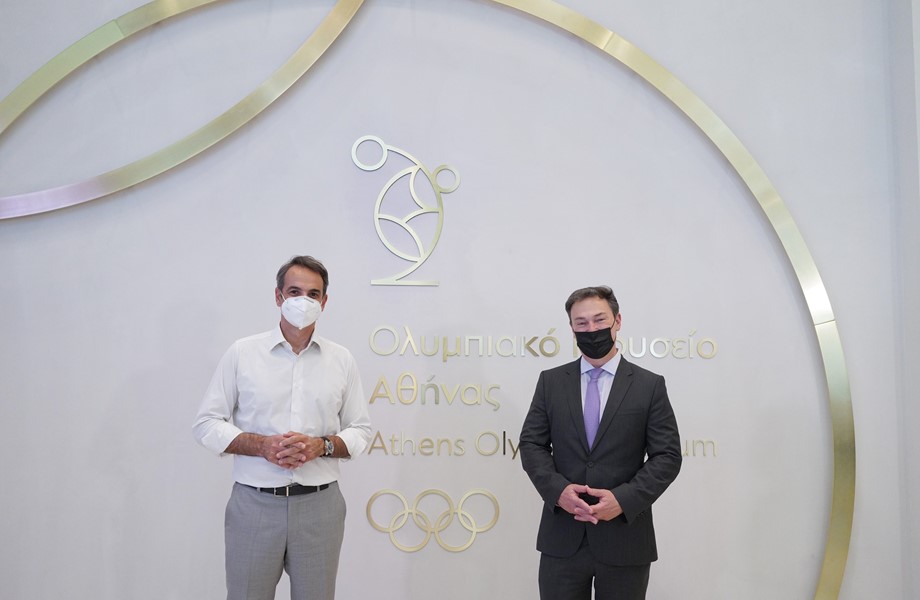 Athens, 23.07.2021 - The Prime Minister, Mr. Kyriakos Mitsotakis visited today the Athens Olympic Museum, on the occasion of the opening ceremony of the Tokyo Olympic Games. Present at the visit were the General Secretary of Sports Mr. George Mavrotas, the Olympians Mr. Spyros Gianniotis, Mr. Leonidas Kokkas, Ms. Niki Bakogianni and Ms. Sofia Bekatorou, as well as the Paralympians Anna and Christina Denta.
The Prime Minister received a warm welcome at the new Museum - a wholly owned project of Lamda Development - by Mr. Odysseas Athanassiou - Chief Executive Officer, who was accompanied by Mr. Vangelis Chronis, Vice President and Ms. Melina Paizi, Chief Development Officer. The Prime Minister was guided to the Museum by Ms. Maria Papaioannou, Director of the Athens Olympic Museum and saw up close the personal items donated by the Olympians, who shared with him personal stories from their participation in previous Olympic Games.
At the end of the tour, the Prime Minister stated "The country that gave birth to the Olympic Games acquired a Museum worthy of the tradition and history of the Games. With great pleasure today I had the opportunity to tour the new Museum of the Olympic Games, on such an important day that the Tokyo Olympics begin, these special, different, much more difficult Olympic Games. On this occasion, I would like to wish all our athletes and all our athletes good luck. Although the fact that they are there in the midst of all these adversities is already a first victory ".
On behalf of Lamda Development, Mr. Odysseas Athanassiou stated "It is our honor to welcome the Prime Minister Mr. Kyriakos Mitsotakis at the newly established premises of the Athens Olympic Museum and especially today when the Olympic Games in Tokyo begin, which gives the this visit an additional symbolic value. "Our vision, when the design of the Museum began, was to create a cultural space that will house an important part of the country's Olympic heritage and will highlight the unique contribution of Greece to the formation of the Olympic Movement."
The Prime Minister, the Secretary General of Sports and the Olympians had the opportunity to watch live the opening ceremony of the Olympic Games in a specially designed space, together with the young athletes from the Ariston Paiania Fencing Club.
The Athens Olympic Museum is an initiative of Lamda Development and is located in the Golden Hall. It was created with the aim of being a modern ark of Olympism in Greece, highlighting the authentic spirit of the Olympic Games and the unchanging values ​​of Olympic Education from their birth until today.
BACK TO NEWS